About Nakaumi Research Laboratory
Overview:
This laboratory is a lakeside research facility belonging to the Estuary Research Center situated in Eshima Island in Lake Nakaumi. Visitors can enjoybeautiful sceneries of Lake Nakaumi and Mt. Daisen(←Please click here for the location map)t consists of a research building, an accommodation building and experimental ponds. There is a small port just beside the laboratory, where three research vessels are waiting for us. You can use the facilities of the laboratory. Please contact us for a detail information.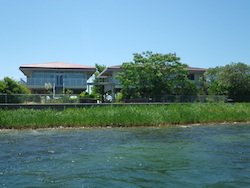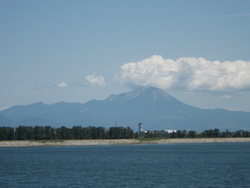 1) Research building:
It is a two-story building. The first floor is used as the storage of the equipment, and the second floor is used as the experimental space for the samples obtained from the field. Sample treatments like filtration, drying, sorting can be carried out.
2) Accommodation:
It can be used as an accommodation and meeting places. The accommodation building consists of three accommodation rooms, two shower rooms, kitchen and dining space, and an office. The kitchen is equipped with cookware, and self-cooking possible. The fine view from the bath is certainly worth trying!?



3) Experimental pond:
They can be used for experimentation and cultivation using brackish water. The experimental pond consists of four independent concrete ponds. Brackish water is directly pumped up from Lake Nakaumi. Reservation is necessary to use the experiment pond.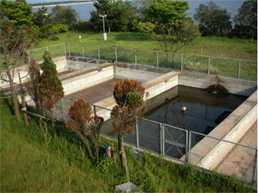 4) Research vessel
●Rupia: Length: 5.41 m, Width: 2.04 m, Power output: 49 hp, Seating capacity: 6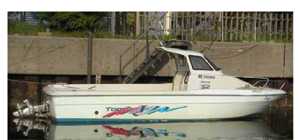 ●Botan (Peony): Length: 5.79 m, Width: 2.04 m, Maximum HP: 64 hp, Seating capacity: 9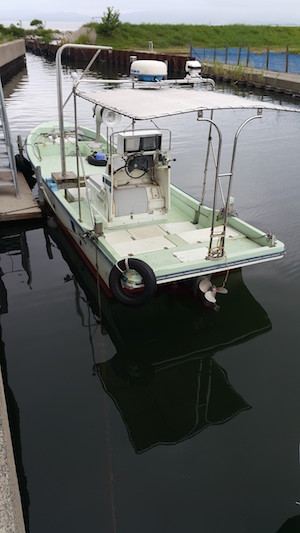 ●Daini Chidori: Length: 4.9 m , Width: 1.45 m · Maximum HP: 15 hp ,Seating capacity: 5